Royal Cottage Residence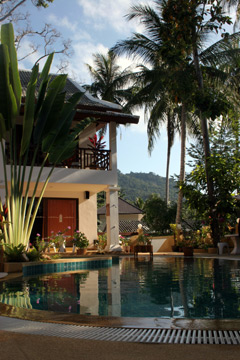 In our residence we have at disposal 14 beautiful apartments in total. Thus, you can see that it is not a sort of a factory for tourists, but a well conceived villa offering to guests a closed quiet oasis. Thus, the residence can offer to clients an absolute relax with a first-class service, not disturbed by the outside life. Ideal holidays! Come to see a paradise!
The residence is completely new, finished in December 2005, built in the Victorian style. All the apartments are fitted with luxury furnishing in the Thai style, fully air-conditioned with above-standard fixtures and fittings. Absolutely natural is also a minibar, a satellite TV, bar glass and a part for a relax.
In the price list you can find the category of rooms A – E, all will surely choose according to their possibilities. The size of the rooms is from 45 to 90 m² namely for very favourable prices almost incomprehensible for a European, taking into consideration the category of the residence in question.